Several pedestrians were struck Saturday in a three-vehicle crash in Charlottesville, Virginia, after police began dispersing demonstrators from a white-nationalist and right-wing rally, the Virginia State Police said on Twitter. There are "multiple injuries," police said.
Video of the incident shows a gray Dodge Challenger driving quickly down a narrow side street lined with walking protesters. The sports car rams into the back of a silver convertible, and soon the Dodge driver slams the car in reverse, going back up the street at a high rate of speed, dragging its front bumper. Several people chase the car. As the sports car retreats, a red athletic shoe falls off the bumper.
The driver were arrested after his car was stopped by the police somewhere nearby.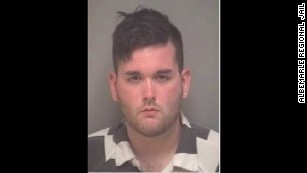 The suspect being held in a Virginia jail in connection with a deadly crash near a scheduled rally of white nationalists has been identified as James Alex Fields Jr., 20, of Maumee, Ohio. Fields is being held on suspicion of second-degree murder, malicious wounding and failure to stop in an accident that resulted in death.
A disgusting newsreporter breaks the news to the suspects mother, Samantha Bloom, what her son did miles away. She had know idea:
–

Heather Heyer, 32, a paralegal and native of Greene County, was killed in the attack.
Different upploaders:
–
Clashes during the day:
Join Clicknews and submit/promote your own content. Follow us on Twitter. Don't forget to like, share the post, and comment below.
–